GP, SGCA, RW Panther Hill Orion
Feline Star of the Hunger Games: Catching Fire & Mockingjay Part 1
BY CAIN HALEY
Panther Hill Maine Coons
Published November 2014
Photos copyrighted by the individual photographers
Article copyright © ShowCatsOnline.com. All Rights Reserved.
Copying or redistribution of this article is strictly prohibited
without the express written permission of ShowCatsOnline.com
My name is Cain Haley.   My family and I live in a picturesque log cabin on the side of Panther Mountain in North Carolina.   On a clear day, you can see more than 30 miles across the mountains of Tennessee.  It is a marvelous place to live. 
I have been breeding Maine Coons since 1997 under the Panther Hill cattery name.   The cats spend lots of time on our screened porches.   The views are great and the fresh air and sunshine keep our Maine Coons healthy and strong. 
"Rion"
In the Spring of 2005, three kittens were born—the result of a mating between my favorite male and female cats.   The mom, GC Rumford FiveStar of Panther Hill, was my first Grand Champion, and considering that she was a cameo girl, a very unusual color for the time, it was no easy task to compete for grand points against the more popular colors of Maine Coons. 

Rion's Parents:
Sire: GC Panther Hill Reginald (left) & Dam: GC Rumford FiveStar of Panther Hill (right)

At The Shows
The pick of the litter was a red tabby and white male that I named Panther Hill Orion—Rion for short. 
Rion made his cat show debut as a kitten—and immediately let me know he loved it.   Whether in the benching area or on the judging table he let everyone know that he was having a good time.  In the benching area he was fearless—greeting all the people who went by his cage.  In the judging ring he loved to hide in the back of the cage waiting until the judge would make a final walk down the row of cages.  As the judge approached, Rion would leap to the front of the cage, stretching his paw out to grab the toy in passing. 

At his first show, one of the judges commented about  his crazy personality. 

Smiling she said, "Well, "Crazy Louis" over here is having a great time." From that point on the other exhibitors always referred to Rion as Crazy Louis. 

Obviously, Rion was a cat with pizazz!


Rion (rear left) as a kitten with his sister
CH Panther Hill Ceil (middle) & their cameo littermate
Photo by Chanan
My First Regional Winner
I showed him in both TICA and CFA and he did well in both registries.  He was my first Regional Winner, TICA's 17th Best Cat in the Southern Region for 2006-07.  I could not have been more pleased with my "crazy" boy.  After he retired from showing he continued in his role a "official greeter" by meeting everyone at the front door of the cabin.  He was such a lovely cat in every way, I was disappointed when it turned out I couldn't repeat the breeding. 
Hollywood Comes Calling
One day in the Spring of 2012, I received a call from Greg and Carol Lane Tresan.  They are animal trainers for a company called Atlanta Dogworks Talent agency based in Atlanta, Georgia.  Jan Chambers of Jattican Zots had suggested they call me (along with other Maine Coon breeders).  They were looking for a special cat for an important movie role. 
My first reaction was to say that I wasn't interested. 
I called Roanne Fulkerson, CFA's business liaison at the time, and asked her if she knew anyone who might have been involved in a film with their cats.  She suggested I speak with Sharyn Hauck who's Bombay male, GC, BW, NW Caricature's Colin Powell was CFA's Cat of The Year in 2004. 
Roanne also told me having a pedigreed cat featured in a film or commercial was a good thing—that it promoted pedigreed cats to a wider audience.  She assured me that a representative from the American Humane Association would always be on the film set to make sure that the animals were treated properly. 
The Audition
Encouraged by all I had been told, I invited the animal agent/trainer, Carol, to my home to meet Rion.  She came with her husband and business partner, Greg. 
Rion put on a quite show for them.  All the quirky personality that he had shown at the cat shows was on full display.  After his audition, the Tresans were confident that Rion was the right cat for the part. 
That's when they told me they were looking for a feline actor to play the tole of "Buttercup" in the second film in the Hunger Games series: Catching Fire! While I had not read the popular books, I knew the books and first film in the series were blockbuster hits and had a huge fan base.  This might just be fun!
The Role of Buttercup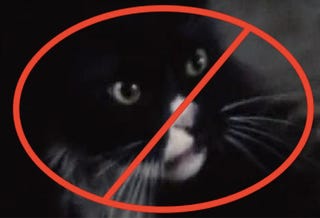 In the books, Buttercup is described as a "hideous-looking cat" that belongs to Primrose Everdeen, the sister of the female lead. 
Prim named the cat Buttercup because, in her eyes, his muddy yellow coat matched the tones of the brightly colored flower. 
According to the book, Buttercup is no beauty.  It describes him as having "a mashed-in nose and half of one ear missing, with eyes the color of a rotting squash".  On the plus side, he is a good mouser and catches the occasional rat. 
In the first Hunger Games film, the feline role of "Buttercup" was played by a black and white cat—yikes! Fans of the books were in an uproar when they saw it.  They were aghast and incensed that the film Buttercup's appearance was so different from the cat described in the books and that they had imagined when reading the books. 
Hunger Games author Suzanne Collins, producer Nina Jacobson, and new Catching Fire director, Francis Lawrence wanted to make things right.  Together they decided to recast the role for the second film. 



Got It!

Rion and I traveled to Atlanta, Georgia to meet with the director and the author.  They would have final say in which cat would be given the coveted feline role. 

Two other cats hopefuls were also there auditioning for the part but it was Rion that was chosen. 

Rion Has Lines!

The wrangler Carol asked if I could teach Rion to speak on command. 

I began working on that.  I would ask him to speak, and when he did, I gave him a dried chicken treat.  He was talking on command in less than a week. 

Rion not only has personality he is also a smart Maine Coon!

They also asked me if he would hiss on command, but I told them no—Maine Coons are known as the Gentle Giants, so they are not prone to hiss at anything. 
Makeup!
Now that Rion was cast in the coveted role, he would obviously need some creative makeup to represent the Buttercup described in the book.  A Supreme Grand Champion and Regional Winning Maine Coon is not a "hideous-looking cat". 
But the movies are all about fantasy .  .  .  so the makeup crew from the popular TV series, The Walking Dead, were called upon to create a new look for Rion. 
To make his coat look suitably scruffy they first applied Vaseline and then added a liberal dusting of black grooming powder.  Voila! He looked perfect for his part .  .  .  but there was a problem.  The Vaseline didn't wash out at the end of the day! Not good. 
Instead of Vaseline, next we tried .  .  .  well .  .  .  how can I put this delicately? It was a lubricating product used by couples in moments of intimacy.  It made his coat look wonderfully greasy on camera but washed right out after the day was done.  Problem solved.  We now knew how to make his coat appear suitably scruffy for the Buttercup character without leaving him a mess when the cameras stopped rolling. 
Then there was the issue of Buttercup's left ear.  Half of it was missing.  I certainly wasn't about to let them cut off a part of Rion's ear .  .  . 
The makeup crew came up with the ingenious idea to use the tape for holding a man's toupee in place.  Strips of the tape were used to carefully bend the top of Rion's left ear backwards (sort of like an American Curl).  Occasionally, if the tape didn't hold, they used an old show dog grooming trick used to hold the tipped ears of collies down—chewing gum. 
Once the ear was taped back, another liberal sprinkle of the black grooming powder was applied and Rion was ready for his closeup!

Rion in full Buttercup makeup relaxes between takes on the set of Hunger Games "Mockingjay"
Action!
Now that Rion was "in character", it was time for him to become accustomed to a film set.  The first day was a bit scary for both of us.  We didn't really know what to expect other than we might have to wait for a long stretches between takes.  That is always the way in film work (or so I had been told). 
I brought a book to read and our own chairs to relax in. 
The first scene involved one of the stars screaming.  Fortunately we were able to go on set while the crew ate lunch.  Rion sat on the couch with me, and trainer Carol began to scream quietly .  .  .  then a little bit louder .  .  .  and louder still—until Rion showed no reaction even when she shrieked at full volume.  That was our introduction to show biz. 
Over the next few weeks Rion was often required to sit on the lap of actress Willow Shields who played his owner, Primrose Everdeen, in the movie.  He took an immediate liking to Willow and she to him.  He was happy to relax in her lap for multiple takes. 

Rion cuddles on the lap of actress Willow Shields who plays Primrose Everdeen, Buttercup's owner
Image courtesy Seventeen Magazine
The Oscar-winning actress and star of the Hunger Games, Jennifer Lawrence, was completely enamored with Rion.  Every time she came by on set she wanted to hold him.  Rion was an excellent ambassador for the Maine Coon breed. 
When Hunger Games: Catching Fire premiered in November 2013, it was an instant hit and social media trended with how pleased the fans were to see that Buttercup had been recast.  Rion was now a celebrity!
Hunger Games: Mockingjay Part 1
Rion reprised his role in the third film in the series, Hunger Games: Mockingjay Part 1.  It was another wonderful experience. 
Rion is especially good at "down" and "stay".  There's a scene in the movie where Buttercup sits on a the edge of a fountain.  When you see him on that fountain, he had been patiently sitting there for eight hours of filming.  That's pretty amazing for even the most obedient kitty. 

Rion perched on the fountain for hours during filming
Rion's Stunt Double
I don't want you to think for a moment that Rion allowed being a "movie star" to go to his furry head .  .  .  but he did have a stunt double. 
Carol explained that Rion would need a stunt double for scenes where the cats are required to sit for very long periods of time or just so Rion could have a rest when he needed one.  So Rion's house-mate, Panther Hill Josh, joined in on the "action".  He would accompany us to the set and when Rion needed a break, Josh was his stand-in. 

in his role as Buttercup, Panther Hill Josh appears on a surveillance screen in District 13
Here Comes The Parade
Our hometown of Highlands, NC, is a small community, but that doesn't mean we don't put on a heck of a Christmas parade.  It is great fun.  We throw out candy and the Rotary serves free hot dogs. 
Rion was now officially a feline VIP so it came as no surprise when he was asked to participate in the holiday parade.  As you can see, he thoroughly enjoyed the new adventure. 

Cain & Rion in their hometown parade

A Celebrity Cat
Even if his film career may be over, as a bonafide feline movie star Rion is in much demand for to make special appearances.  In August 2014, he participated in a "meet and greet" at the Foothills Felines Cat Show in South Carolina. 

Rion helps support the cat show, CFA and the WINN Foundation
The following month Rion was "Celebrity Cat of Year" at the annual "Pet Night on Capitol Hill" celebration, hosted by the Animal Health Institute.  Along with the dog actor that plays Sandy in the upcoming film based on the Broadway musical "Annie", Rion was invited to a posh reception next to the Capitol Building in Washington, D. C.  Congressional staffers and a few politicians gathered to schmooze about their pets and announce the winners of the annual Cutest Pets on Capitol Hill contest. 
For several hours both Rion and Josh had their pictures taken with the the enthusiastic political crowd. 

Carol, Rion, Josh & Cain at Pet Night on Capitol Hill

Rion (left) and Josh (right) resting backstage before appearing on Pet Night on Capital Hill
Photo copyright Ingrid King, Publisher and Founder, the Conscious Cat, used with permission
At Home
Rion was "on call" for filming for almost 2 and a half years.  By the time work wrapped on Mockingjay, Rion was 9 years old, but in the tradition of the medium, Rion was always a trooper.  All the attention and hoopla that is part of being an animal actor in a huge film project has been exciting fun and he loved it all. 
I am so proud of Rion.  I am not surprised that he has led such an interesting life.  He has always been a very special cat.

Rion with his stand in, Josh, relaxing at home on Panther Hill
::::::::::::::::::::::::::::::::::::::::::::::::::::::::::::::::::::::::::::::::::::::::::::::::::::::::::::::::::::::::::::::::::::::::::::::::::::::::::::::::::::::::::::::::::::::::::::::::::::::::::::::::
GP, SGCA, RW Panther Hill Orion
Red Classic Tabby & White Maine Coon Neuter
TICA's 17th Best Cat in the Southern Region 2006-07

Born: May 20, 2005
Sire: GC Panther Hill Reginald
Dam: GC Rumford FiveStar of Panther Hill
Breeder/Owner: Cain Chaley
Panther Hill Josh
Red Classic Tabby & White Maine Coon Neuter
Born: December 22, 2011
Sire: GC Rallicats Rook of Panther Hill
Dam: GC, NW, QGC Javacats High Tea of Panther Hill
Breeder/Owner: Cain Chaley